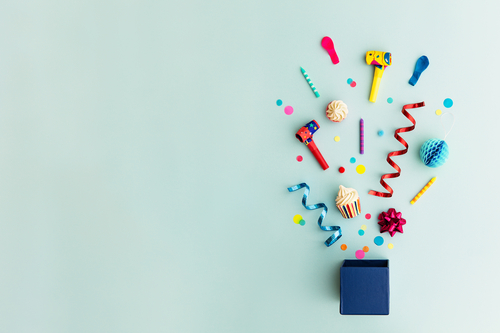 We all had a lot of plans for the year 2020 and I'm willing to bet being quarantined in our homes for months was not top on that list! However, we must abide by the new rules, and make the best of it in any way we know how. It is easy to think all things have to stop or be postponed but all it takes to survive this mentally is some positivity and creativity! This is especially important to have if you're a parent or guardian of little ones! Kids look forward to their birthday and the special parties thrown for them. So how do you tell them that going to Chuck-E-Cheese or the skating rink is a no-go now? No parent wants to break their child's heart but health and safety is everything! 
The big birthday party let down can be mended with an at-home celebration. No, you can't invite extra people over but all the love they need is in the house or only a video chat away. To help you stay in the running for "parent of the year," here are some ideas to make their special day as memorable as this terrible pandemic! 
Turn the Living Room into a Party Hall
Word around town is there is a new party hall and it is THE place to be! Lucky for you, it just so happens to be in your living room 😆. By moving the couch, pushing the coffee table to the side, putting Pandora or Youtube on the TV, you now have the perfect party hall set up. The guest list is going to be pretty easy for this epic party, it's VIPs only – put personalized "invitations" in your kid's rooms to make the experience more legit. Yes this may be a party of about five or less but the fact that it's a party at all is what is important. Take the focus off of the amount of people and focus on the experience! Don't forget the party favors. Order from local providers first before pushing the "easy" button and heading to Amazon. Confetë Party is a great place to order decorations from and is currently offering no contact balloon installations or free delivery on orders 50 dollars or more! 
Have a Baking Party
What is a birthday without the sweets? Even if every other day of the year sweets are no, I think we can make an exception 😉. Baking is a perfect hands-on activity for you and the kids to do together. This party may be more restrictive on age, I wouldn't recommend kids under three years old participating and those pre-teens probably won't be as interested. However, baking will keep the hands, minds and creative energy active for all those involved. Just start with the basics:
A few boxes of cakes 

flour 

Eggs

Oil

Baking powder
and whatever else you may prefer using while baking – gluten free and vegan options are just as much fun! Then you take it up a notch:
different icings

cookie cutter shapes 

piping bags

sprinkles
and don't forget the candles! In order to make this as cost effective as possible, you can get the baking accessories at the dollar store. This will get messy but the clean up will be worth it once you see the joy and happiness this has brought in a time of much sadness. 
Facetime Get Together 
Finding a kid without an iPad is rare, and a parent without an iphone even more rare! Utilize your current access to technology to have one of a kind cyber party. Including family and friends into the birthday celebration while remaining socially distant has been made a lot easier with the help of facetime, especially now since multiple people can be in the chat at once. Whether it's everyone singing happy birthday or playing interactive games, use facetime to make the birthday girl or boy feel special.
A lot of the time, kids just want to feel loved and thought about. The size of the presents or the parties whether big or small does not matter, if they are shown that someone was simply thinking about them. Not being able to have a traditional party right now is a bummer but with a thoughtful and creative mind, that disappointment can be easily turned upside down!