Here is the August 2021 Market Update. Every month we compile the data from the following counties: Pierce, Kitsap, Thurston & King. The data is pulled directly from the Northwest Multiple Listing Service. Are you looking for further information in a specific area? Let us know! We're happy to send you a complimentary market analysis for your home. 
August brought the real estate market slightly less inventory overall when compared to the month of July across Pierce County. Which is not uncommon for the month of August to see a small dip in available inventory. Many folks are busy soaking up the last warm summer days or getting ready to start a new school year, which doesn't leave much time to think about buying or selling your home. As we creep into the end of the year, we will likely see more new inventory hit the market. 
Now, into the good stuff: home values. How much has your home appreciated since the beginning of the year? Probably a lot more than you think. Especially if you bought a home on the Eastside. In January 2021, the median price of a single-family home was $403,750. Fast forward to the present day, the median price of a single-family home is $471,000. Almost a $70K increase in a matter of months! On average, homes in Washington have gained $66K in equity the past year- one of the highest equity gains per state across the U.S. (Keeping Current Matters).
Median Sales Price January 2021 vs. August 2021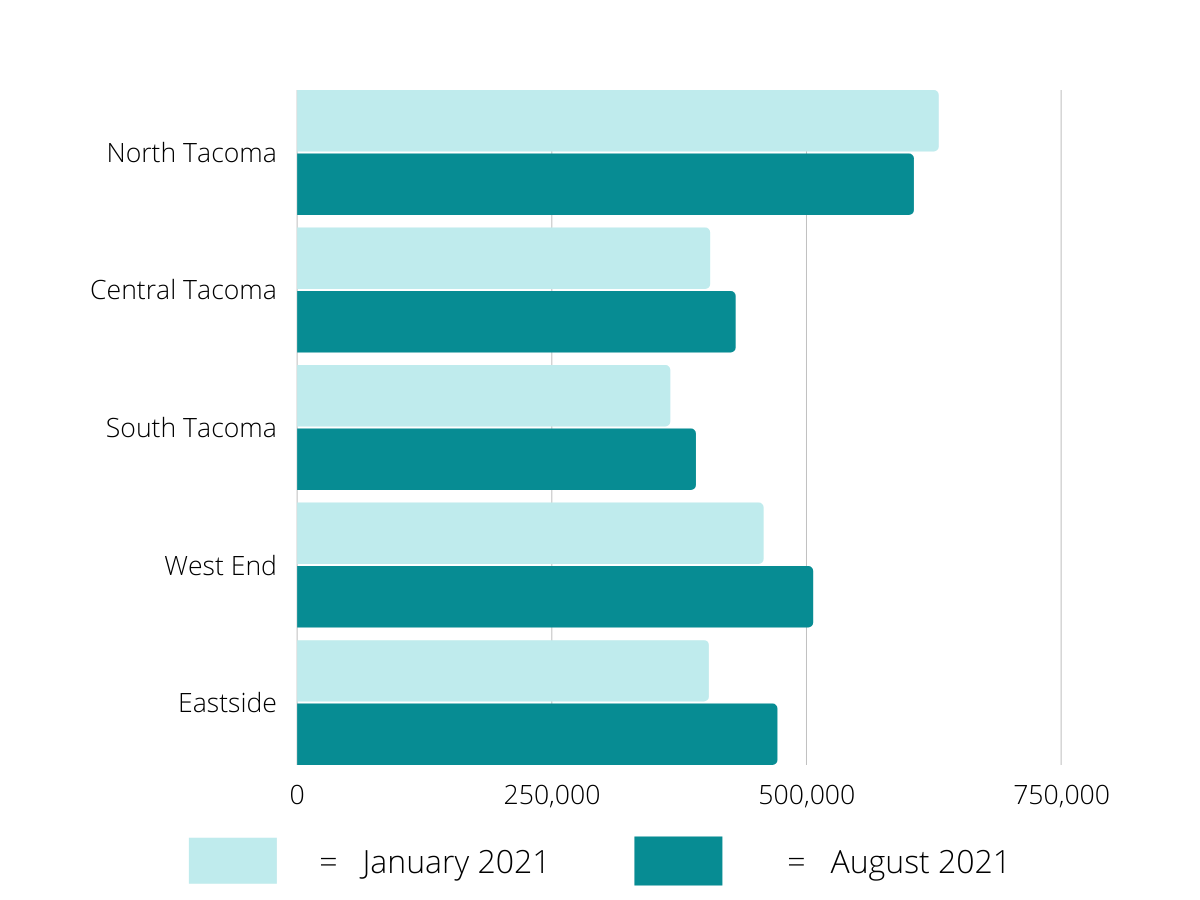 Surprisingly, the graph of North Tacoma shows a small decrease in median price of homes sold from January to August. However, in January, the zip code 98403 only had three homes that sold and the median price was $1.15M which needs to be taken into consideration when comparing January data to August data. The North Tacoma area has increased 23.8% year to date which is more accurate when looking at the big picture. 
Gig Harbor has seen the biggest jump in median price of homes sold since January with a $100K difference. The zip code 98335 has seen the highest increase when comparing median home price year over year at +27.1% change. In August, the median sales price was lower in University Place than in January; however, the increase year over year is 15.2% (which is lower than the Pierce County average of 21.7%). 
Median Sales Price January 2021 vs. August 2021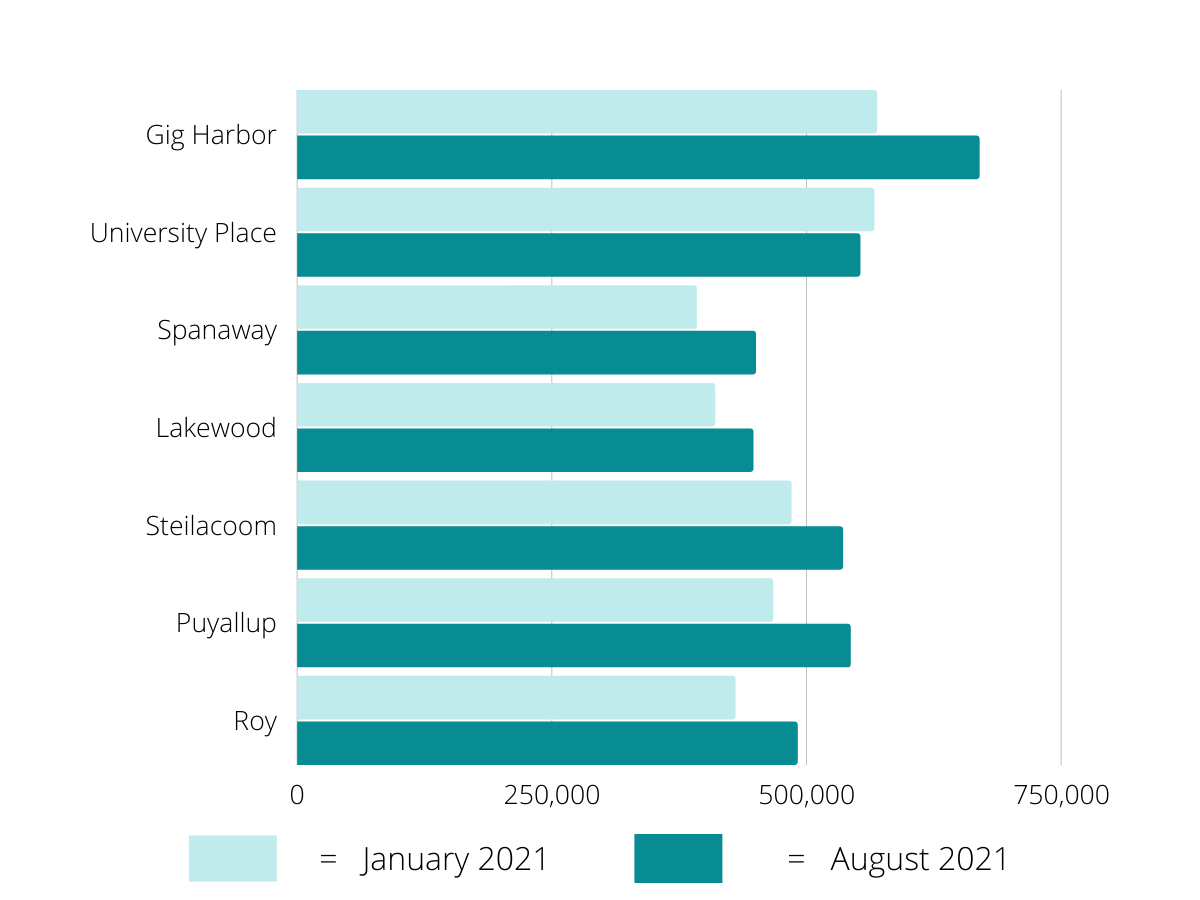 Here is how Pierce, King, Kitsap and Thurston counties compare to one another when looking at the median price of homes sold from August 2020 to August 2021. King County has the lowest amount of available homes this month and Kitsap County has the highest. 
Median Sales Price August 2020 vs. August 2021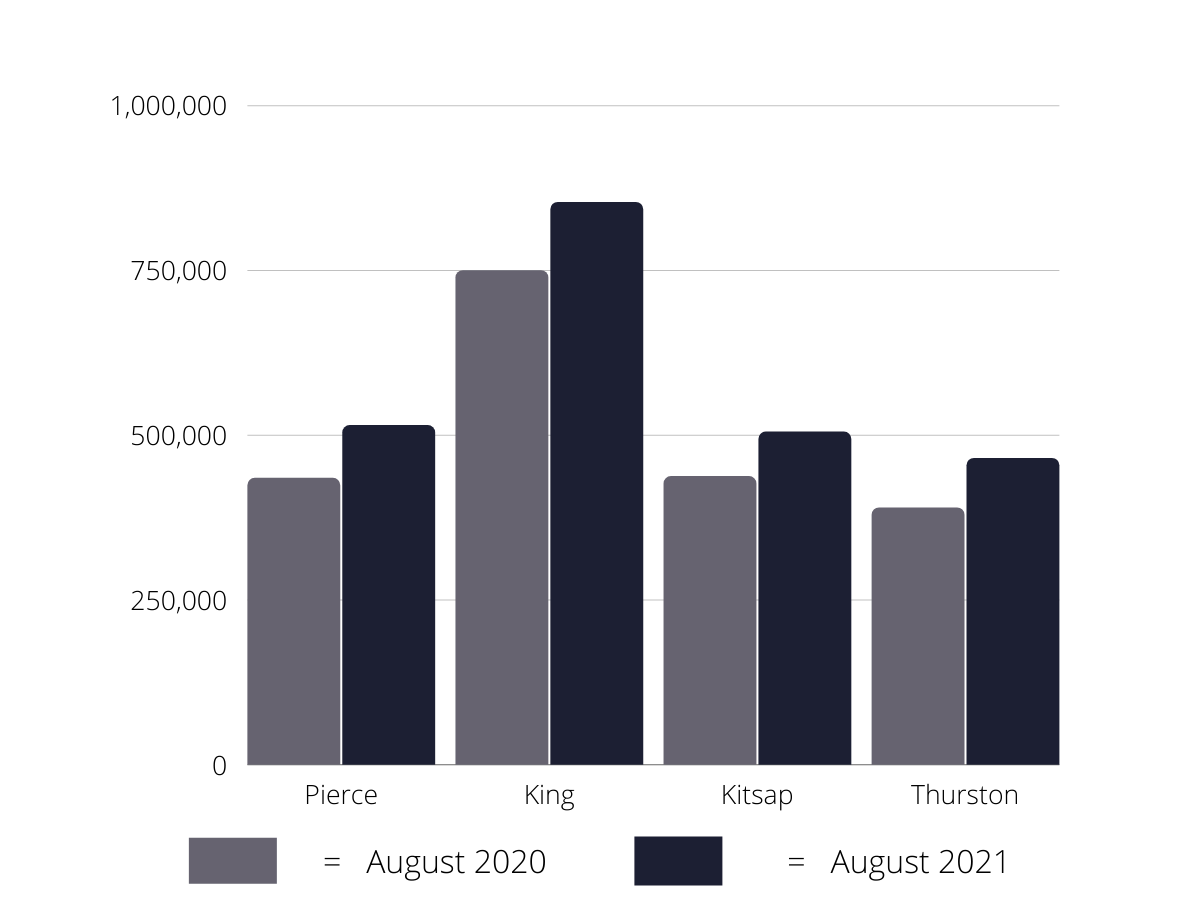 Are you interested in how this month compares to last month? Check out the July 2021 Market Update here!
If you are considering selling your home, feel free to reach out directly – Jenny@JennyWetzelHomes.com OR call/text (253) 381-9788.