When you live in Washington state, your choices of coffee are far from a few. Driving down the street you are sure to see a coffee spot on just about every corner. But most of the time the coffee is quick, un-fresh, and definitely not thought about. Thankfully, the owners of local small business Campfire Coffee is bringing the thoughtfulness back to the WA coffee industry! Campfire Coffee has brought back an old-time method in a new way to give their customers enjoyable, cared about coffee daily. 
Support a local and minority owned business by indulging in great coffee made from the heart here in our hometown! 
What products and/or services do you offer? How long have you been in business?
Campfire is a typical coffee shop in that we have coffee, tea, Italian sodas and small food items on the menu. But we're a little different in that we're a wood fired, open flame coffee roaster and because of our social mission of increasing access to the outdoors, we have a lot of outdoor inspired merchandise. Our shop isn't yet open but will be in July so currently we're offering whole beans and merch through our online store.
We started this process November of 2018 and officially launched our online store in March of this year when the shutdowns halted work on the coffee shop space.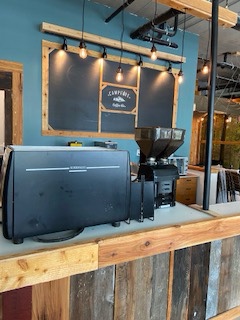 How do we find you online? 
Our website: Www.welovecampfire.com 
Facebook: Campfire Coffee Co.
Instagram: welovecampfire 
Twitter @welovecampfire
Why did you start your business? What is lesser known about your business that you wish more people knew?
We started really out of necessity. Whitni was working in a high hazard field and suffered a pretty serious injury and I had recently been let go from an executive Position in a Seattle-based marketing Agency. We were trying to find something new that we'd both love. And ironically enough, Whitni had always wanted to own a coffee shop and I had some unofficial training with roasting. So it worked out. 
About our business in specific is that Campfire Coffee Co. is veteran, woman and minority owned. We're the only coffee roastery and shop in the country with that distinction. 
About the coffee business in general is that coffee roasting really is fun and pretty easy to do. It's not some mystical dark art that takes a millennium to "master", it does take know-how but an instant-pot has a steeper learning curve than roasting coffee.
We are working to be known as a super fun company that does fun stuff but we're super serious about making a difference in our community and youth. We've had enough of our own experiences of inequality and snobbery in both coffee and outdoor spaces that we want to be the change we wish to see.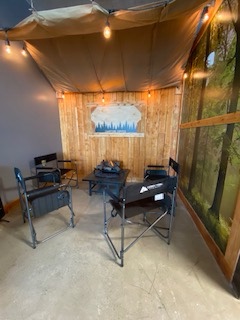 What makes you or your business different? Fun facts?
Just about everything makes us different. We roast over literal open flame campfire style. Which people haven't done for a hundred or so years.
We're minority, woman and veteran owned. 
Where other coffee organizations do a lot for the farmers in coffee growing regions, our focus is not only on supporting direct trade Around the world but making a difference right here at home in our backyard. 
We also make everything in house. We roast the coffee, design the logos and imagery and we also make all the merchandise that is "campfire" branded. The hoodies, shirts, mugs, tumblers, hats, Bags, that's done all in house by hand. Which is why some things can take a little bit longer to get 🙂