Nestled on a large 6,500-square-foot lot in North Slope of Tacoma, WA. 1,080-square-foot home is brimming with potential! Prime fixer upper located in this coveted Historic District. North Slope is located above (south) of Old Town Tacoma, to the east of University of Puget Sound and west of Hilltop.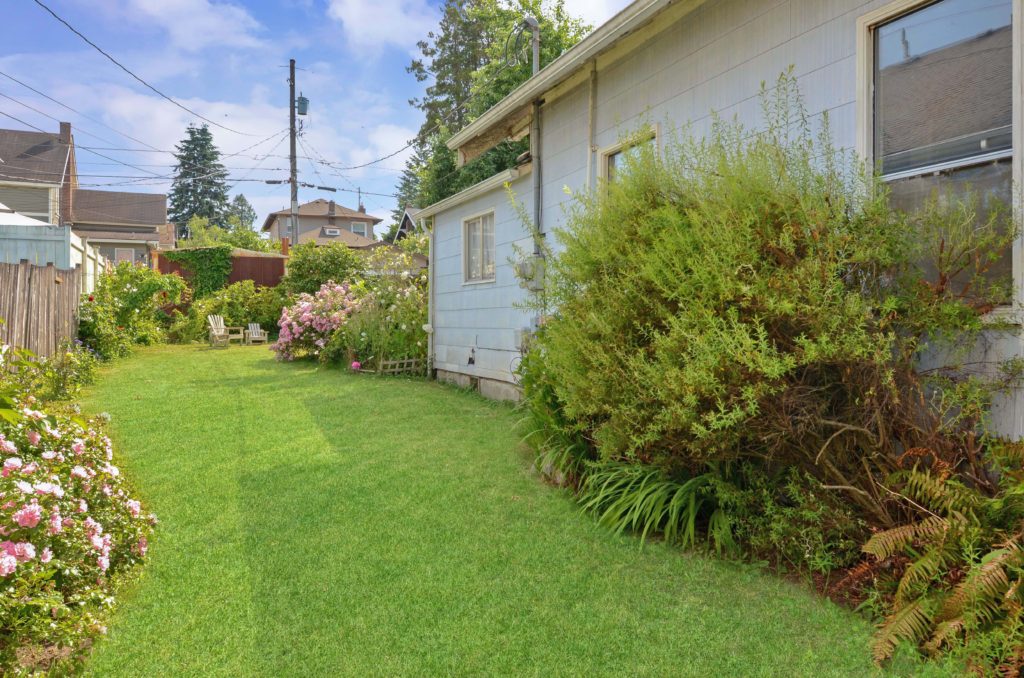 Listed Features:
3 beds, 1bath
6,500SF lot (highly unusual for this historic neighborhood)
1,080 finished square feet
large unfinished attic space. (Make this your master suite with partial view of the water!)
Separate laundry room and back deck
Potential for detached garage
LISTED for $250,000.
Sold "as-is"
Home has been owned by the same family for the past 30+ years. The rose garden, when in it's prime, was a sight to behold. Really stunning and admired by the neighbors. With a little trimming these mature plants, it could be glorious once again. Whether you dream of having your own garden beds, space for outdoor entertaining or just outdoor privacy, it is here. The large lot also has space for a detached garage and has great paved alley access.
Dream of Remodeling?
This fixer upper offers you the opportunity to live in a convenient Tacoma location AND create the home of your dreams! If remodeling a home sounds like something you're seriously considering, you're not alone—according to a report from March 2019 on Trulia, a whopping 90% of homeowners plan to remodel their home. Maybe it's thanks to the popularity of HGTV, but being able to curate a home that perfectly suits your style and needs is an appealing prospect for many buyers.
To see before and after pictures of an Old Town Tacoma fixer upper I (Jenny Wetzel) bought and remodeled to look new, modern and fresh click here!
Welcome to "North Slope"
At 808 N M Street, you're in a coveted historic community that's centrally located  in between Old Town, Hilltop, 6th Ave, and North Tacoma (more specifically, the UPS neighborhood). Here are just a few of the local highlights you can take advantage of in the neighborhood:
MultiCare Tacoma General Hospital
Located just 0.6 miles from 808 N M Street, Tacoma General and all of its surrounding medical facilities are just off of Division Ave. Here you'll find a wide range of specialists and care, and for those who work in the medical field, being able to live so close to work is a definite perk!
Hanks Bar & Pizza
Conveniently just a few blocks from home, Hanks is a laid-back local hangout that's open from 11am-2am every single day (perfect for grabbing a late night snack!). Their menu offers several different types of pizza pies and calzones, plus sandwiches, soups, salads, and appetizers that are hard to resist (like their "Loaded Nachos" and fresh pretzels). They also have over 21 beers and ciders on tap!
El Borracho
Another great spot for late night eats (they're too are open until 2am everyday!) and right along the bustling 6th Ave (less than 1 mile from home!), El Borracho is a casual spot known for their awesome happy hour deals and large variety of vegetarian and vegan options. During happy hour, tacos are $1.10, guacamole with chips & salsa is $3.93, and there are several drink deals and more to choose from. Follow El Borracho on Facebook for updates on happy hour deals.
Ice Cream Social
Featuring local, handcrafted, and all-natural ice cream, Ice Cream Social started out as a farmers market favorite and can now be found in two locations (on 6th Ave and at Point Ruston). In addition to their "Everyday Flavors" (which includes Valhalla Coffee, Mint Chocolate Chip, Buttered Pecan, Salted Caramel, and more), you can choose from a selection of Seasonal Flavors. There are always dairy-free/vegan options in the mix!
Engine House No. 9
Built in 1907, this historic building actually provided fire protection to Tacoma's North End back in the day! Today we get to go and enjoy house-crafted beers on tap and an extensive menu, all in a fun, laid-back atmosphere.
TEXT/CALL Realtor Jenny Wetzel @ 253-381-9788 for more information.