619 Boyer Ave SW, Quincy, WA 98848
Listed for $600,000 | SOLD for $605,000 in July 2023
MLS # 2075331
Whether you live here full time or enjoy Sunland Estates as a vacation or investment home, you'll find this bustling community will fulfill your desire for fun and relaxation. Located between the chiseled Basalt Cliffs and serene Columbia River, the coupling of nature's beauty and active community make this home and community the ultimate destination. The home features single level living on a quiet corner lot with a large detached garage (with a separate full bathroom & water source!). Gently used, meticulously cared for and thoughtfully updated with solar panels, metal roof, bar, water softener, sprinkler system and new exterior paint. Expansive deck extends the overall fluidity and function of this wonderful estate. Welcome to Sunland.
PROPERTY FEATURES:
2 Bedrooms
3 Bathroom
1,560 Square Feet
9,817 Square Foot Lot
Built in 1992
2 Car Detached Garage (720 Square Feet)
Solar Panels
Discover the charm of Sunland Estates; your perfect retreat located in the quaint town of Quincy, Washington. Nestled amidst the picturesque landscapes of the basalt cliffs and Columbia River, Sunland Estates offers a remarkable blend of natural beauty, tranquility, and recreational opportunities. This home has been lovingly cared for and is equipped with smart upgrades and noteworthy features. Keep reading to find the full list of details.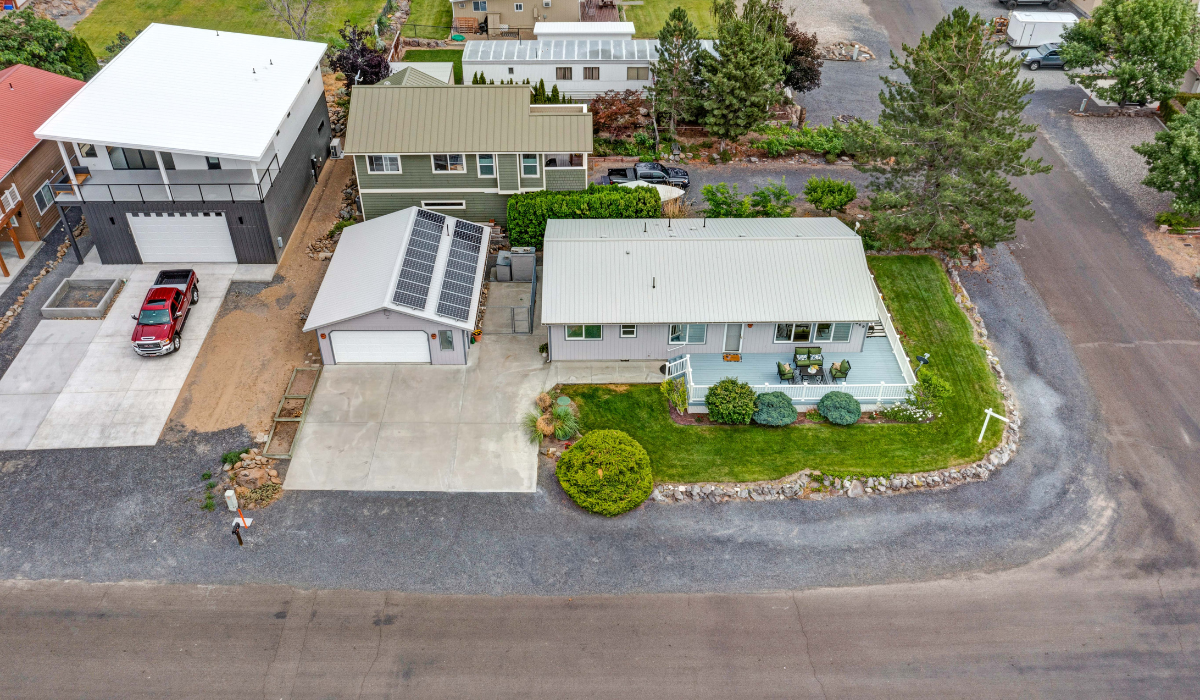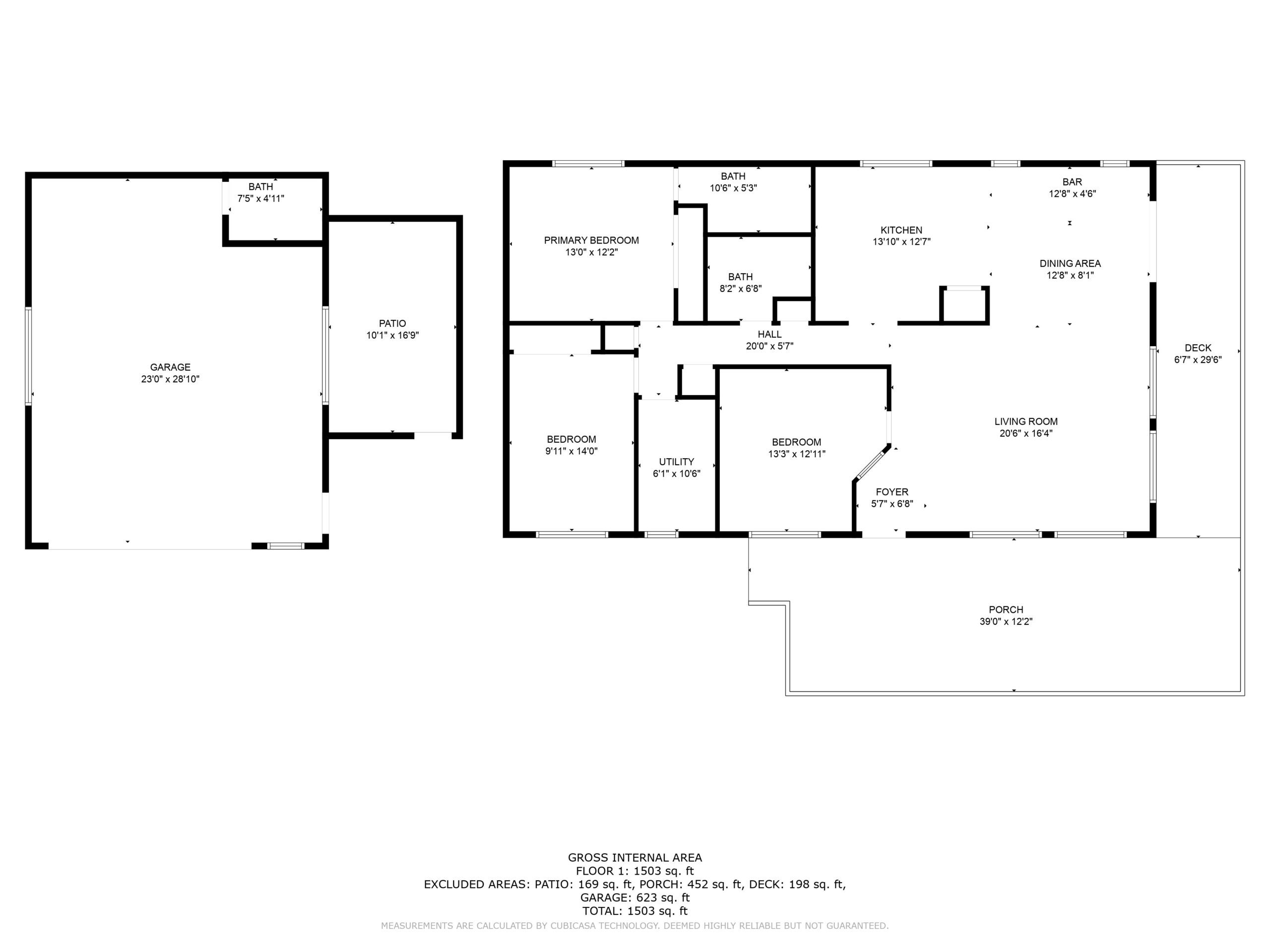 Located on the eastern corner of Boyer and Hunter Avenue, you'll find this corner lot location to be secluded from much of the traffic and celebrations, especially during holiday and concert weekends. Enjoy alfresco dining with friends and family as you soak up the panoramic views of the Columbia River and basalt cliffs from your expansive deck. Whether it's morning coffee or evening drinks, the outdoor spaces of this home provide the perfect setting for relaxation and entertainment.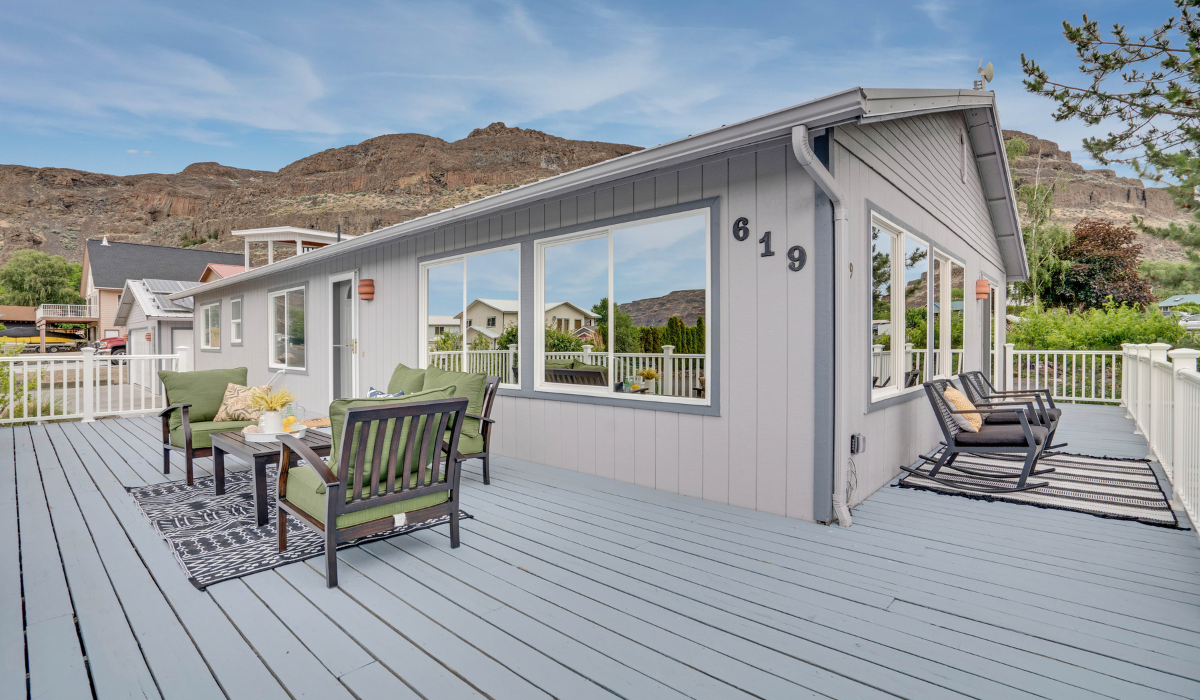 With this home, the outdoor living takes center stage. Watching 4th of July fireworks from the deck is one of the owners favorite past times. The deck wraps around the South and West portion of the home and runs over 12′ in depth (reference the diagram for exact measurements). It's well suited for small and large gathering and has been extremely well cared for over the years.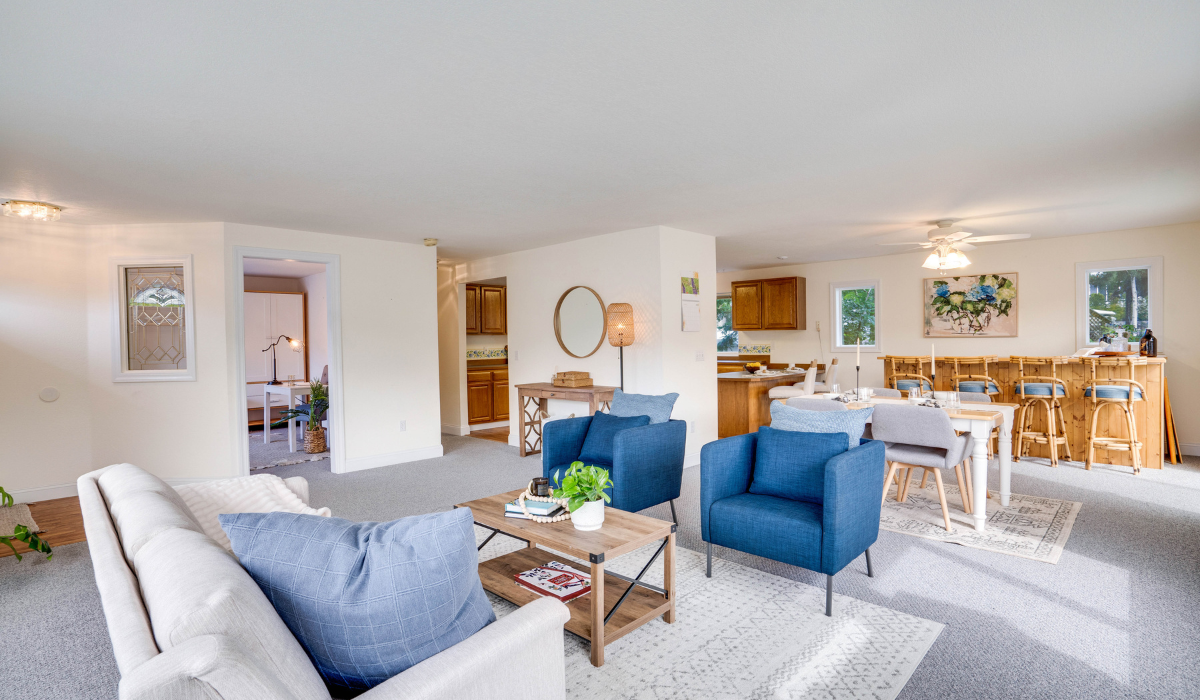 Wonderfully kept 2-bedroom (plus an office!) is just the right size for comfortable living. 1,560 square feet and all on one floor. Sunland lives up to it's name in getting very warm during the summer months, but come winter, you'll love having the fireplace located in the open living and dining room. This home provides the perfect backdrop for creating lasting memories year round. The large UV protected windows filter afternoon sun while also inviting an abundance of natural light into the home.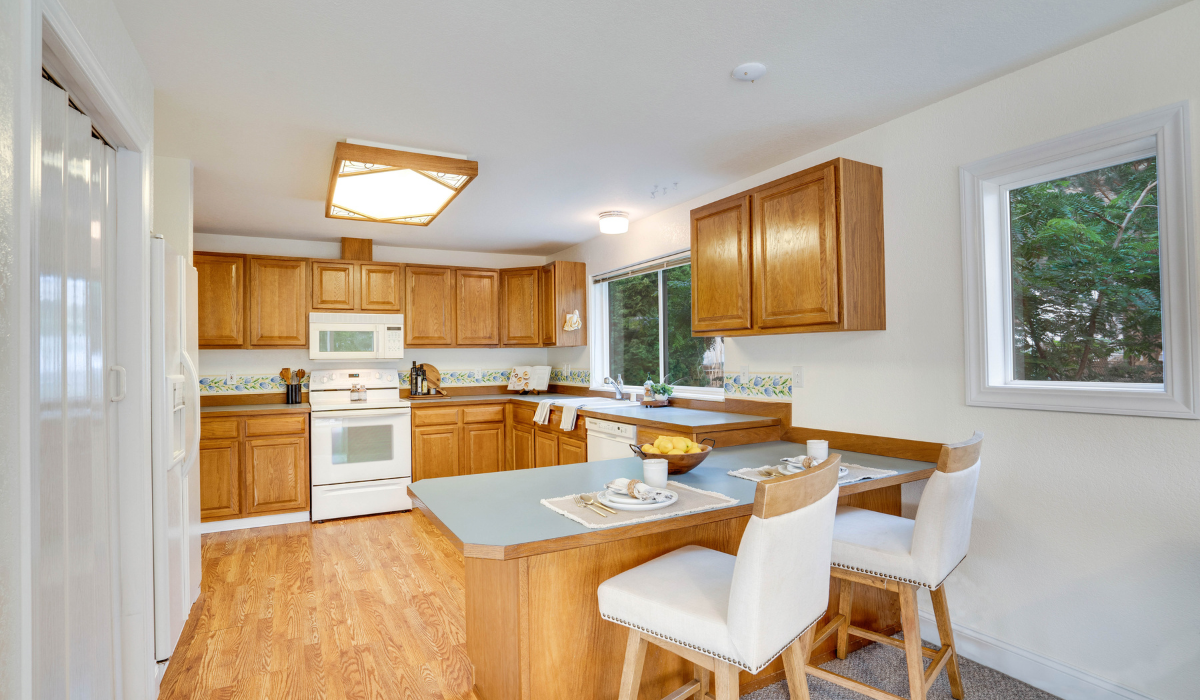 Original and well kept kitchen. The peninsula bar seating is perfect for kids and adults alike. The cabinet space and standing room is large, easily accommodating larger social events. The kitchen window above the sink overlooks a privacy hedge. Sheltered from the neighbors views and (if you're lucky) the local birds might sing you a song. 🎶 ♥️
Belly up! Bar seating is open to the kitchen and dining area. Behind the bar a beverage refrigerator. Ample storage underneath for glassware, beverages and snacks of your choice. If you're providing full service/delivery to your guest, you'll love the convenience of the sliding door on the southwest side of the home.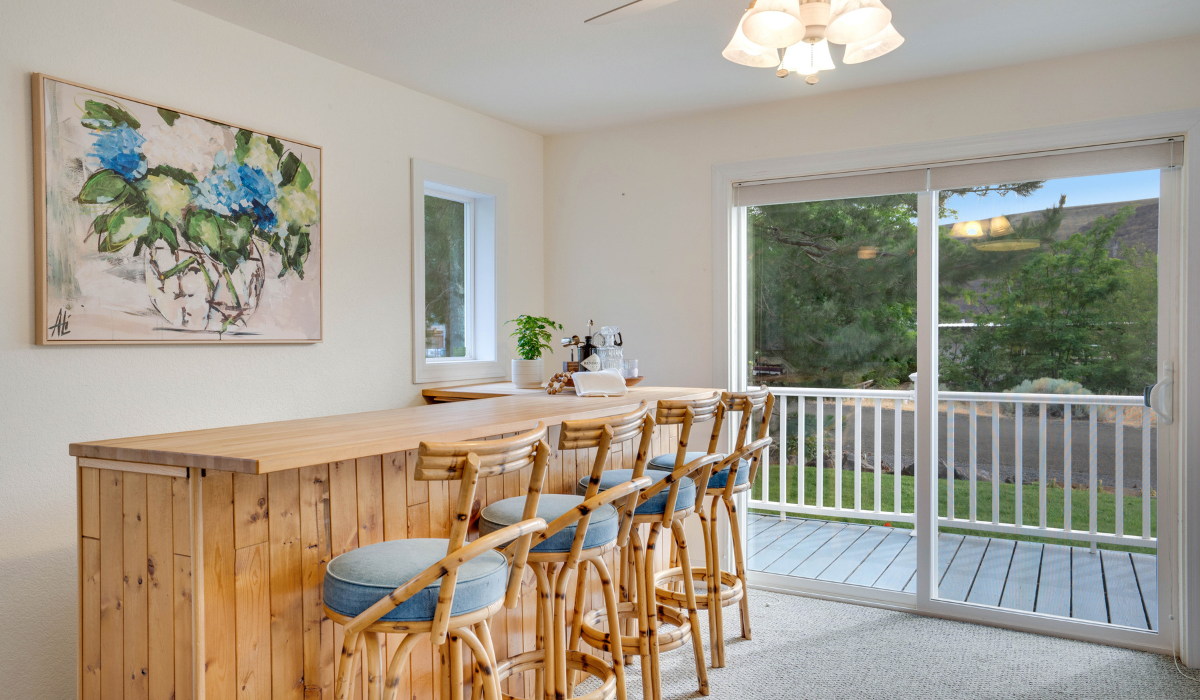 Imagine waking up every morning to sweeping views of the Basalt Cliffs. The Primary Bedroom is nestled in the east (back) side portion of the home and comes with plenty of closet space. The standing white closet conveys with the home and is in like-new condition. The office and guest bedroom face west and get the afternoon sun.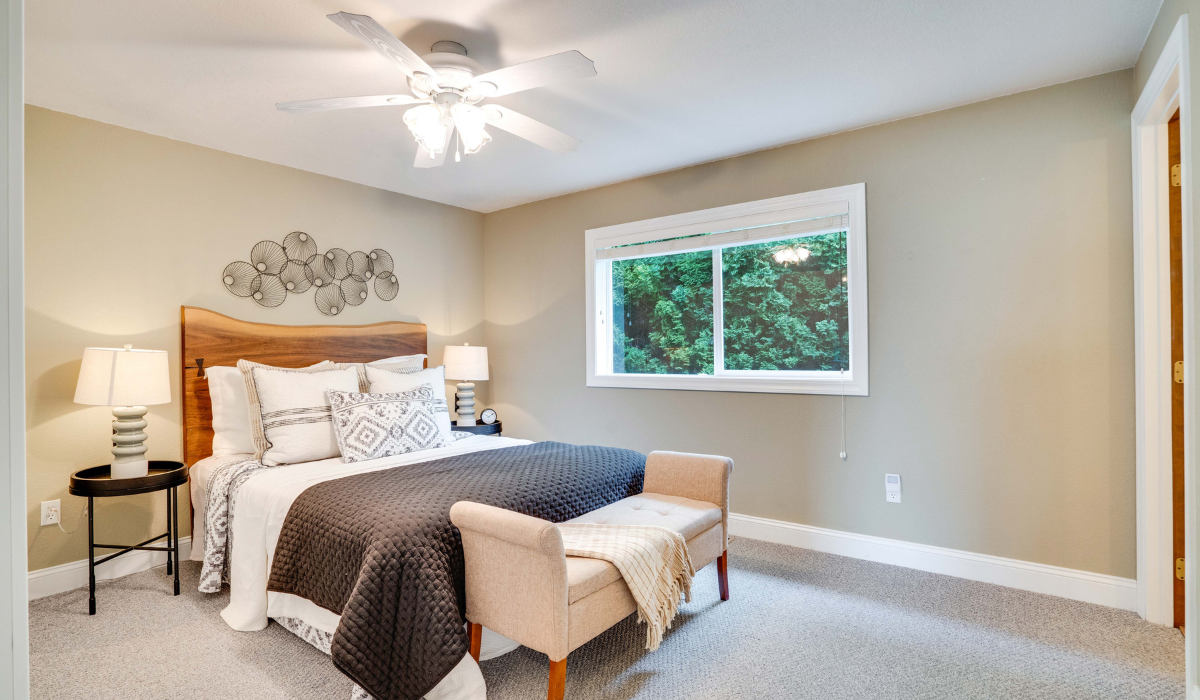 The garage has a separate air conditioning unit and water heater. Plus, 1 of the 3 full bathrooms is located here. Converting the garage to an additional dwelling space is possible and some of the hard work is already done for you! The 4 seat, electric golf cart is also negotiable with the sale of the home. Getting to and from activities in the community is made easy (and fun) with the use of the golf cart.
Living in Sunland Estates means having a world of recreational opportunities right at your doorstep. Launch your watercraft from the community boat launch and embark on river adventures, explore hiking trails, or simply relax by the riverbank with a good book. The community amenities, including a clubhouse, outdoor swimming pool, tennis and basketball courts. You'll find many morning walkers and runners. The community in Sunland is bustling, you'll find it easy to stay active and social.
Nearby, Quincy offers convenient access to everyday amenities like groceries and gas. But if you are in a pinch, Captain Ron's convenient store is but one block away and likely has what you need!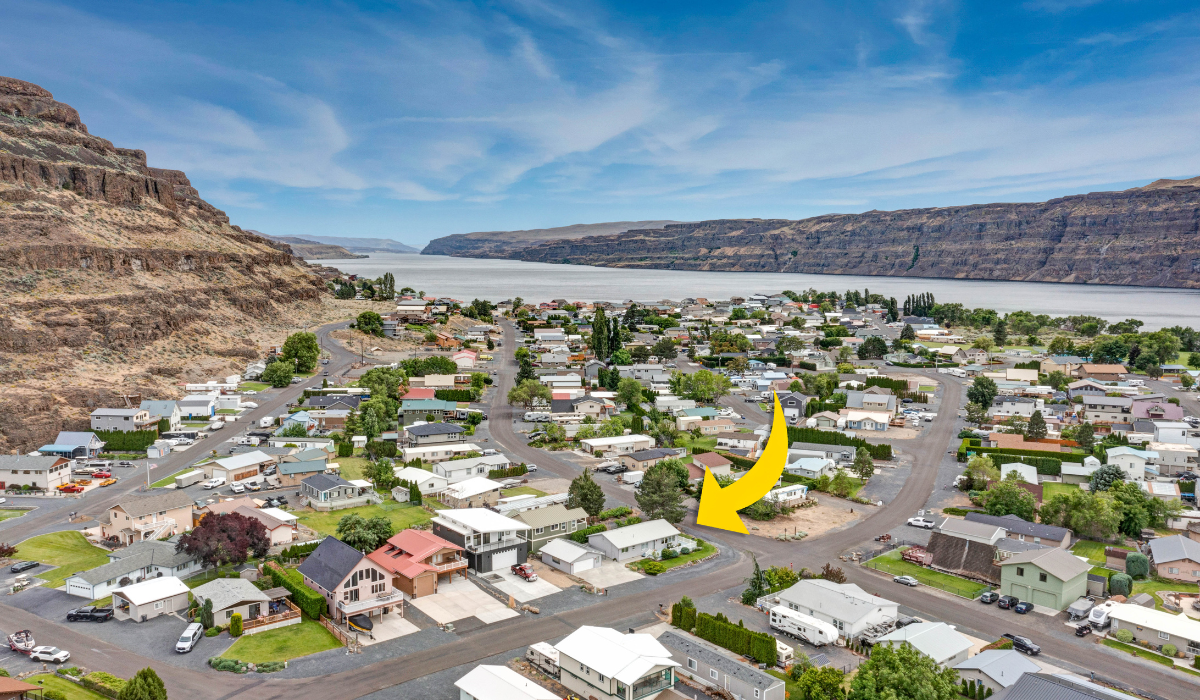 Five miles from Sunland Estates, the renowned Gorge Amphitheatre awaits music lovers and concert enthusiasts. This stunning outdoor venue is perched above the landscapes of the Columbia River Gorge and hosts a lineup of world-class performances each year. Immerse yourself in the magic of live music as you enjoy breathtaking views and performances at this iconic amphitheater.
Sunland has grown and changed dramatically in the last 30+ years since I started coming with my family. And yet still, it's our favorite place to come and enjoy. As kids and adults, we love going down to the pool, park and North Beach to play and relax. My Mom is a music buff, and being just 11 minutes away from the Gorge has made it easy for all of us to enjoy live music. We love Sunland and welcome our new neighbors!
CALL/TEXT Realtor Jenny Wetzel at 253-381-9788 for more information.