Tacoma's Real Estate Market continues to appreciate.  Yes, we are still "The Hottest Real Estate Market in the Nation" favoring Sellers. And yet we continue to see opportunities for both Buyers and Sellers. Here is a quick overview of what we've seen in the last month and the underlying variables that are driving it.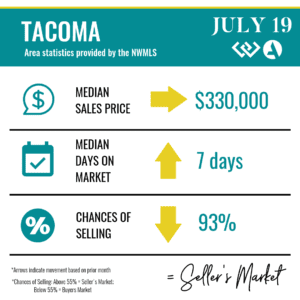 MEDIAN PRICE remains the same as last month at $330,000. Median Days on Market has increased just a couple of days to 7. (Yes we increased to 7 whole days ????) Chance of Selling is derived from the number of Pending Home over the number of Sold Homes. If you are selling in a particular area and price point, it's important to understand those specific market trends to best position yourself as a Seller or Buyer. These statistics vary significantly based on what you are shopping for and where. Let's dig in!
SELLERS/BUYERS what you need to know: 
Interest rates are at an annual low. As a buyer it's in your best interest to capitalize on this and lock in your rate! Which means getting your offer accepted. On the flip side – Sellers; time is of the essence, but lack of preparedness isn't worth it. Complete any work orders that are safety or funding items to maximize the price by capturing the largest buyer pool possible.
Day on Market is increasing. Sellers if you don't get an offer within the first few days of being listed, it's not necessarily an indicator that your home is over priced. This time of year is packed with vacations and community events. Hold tight, you might just get that offer you were hoping for later than expected. BUYERS – if you want to gain a competitive edge, keep your availability open on weekends and days that other buyers may not be looking and keep the terms you present competitive. Competitive terms may vary for each seller. Your Broker will be able to share with you what these are for each seller!
If you take away anything from this information, let it be this; the Real Estate Market varies considerably based on the niche location and price point of which you are shopping or selling. Not every house and location is going to have multiple offers AND there are some that we just KNOW will.
---
---
---
---
---
---
---
---
CALL/TEXT Realtor Jenny Wetzel for more information on Selling/Buying in the Greater Tacoma Area (253)381-9788, Jenny@jennywetzelhomes.com