Oh how I miss the diversity and daily interactions with people, before COVID. Collaborating with other small business owners are the building blocks for so many creative ideas and "ah ha!" moments. For now, our creative energy is being built through virtual interactions vs. side-by-side exchanges. This too shall pass and when it does, having a co-working space that is buzzing with other entrepreneurs and business owners is where you want to be. 
Business owner Chris Hoyt realized the importance of co-working and the synergetic energy it creates when he opened Pioneer Collective in Seattle in 2015. In 2019 he brought the same concept to Tacoma. Pioneer Collective gives business owners and their employees the options to work around their daily lives and be surrounded by open, clean, non traditional work space. 
I countdown the days I can partake in communal spaces like Pioneer Collective – there is something so unique and special about co-working spaces, that brings people and their businesses together and makes us all better and what we do. 
 Learn more about Chris and his team at The Pioneer Collective and see how they have positively transformed the work space to fit just about everybody's needs!

What products and/or services do you offer? How long have you been in business?
The Pioneer Collective offers co-working memberships, dedicated desks, serviced flexible offices, meeting room rentals, event space, mail service and virtual offices. We opened our flagship space in Seattle in June of 2015 and launched our second location, in Tacoma, in July of 2019. As the world embraces remote work, and the number of freelancers and contractors grow, companies are understandably reevaluating the utility of the traditional commercial lease model. Committing to an inflexible 10 year+ agreement with hundreds of thousands of dollars of personal guarantees and financial liability just doesn't make financial or operational sense for most companies in 2020. With our model, companies can treat office space like any other service, scaling up and down as their facilities needs evolve and their workforce changes. They only have to pay one vendor and aren't on the hook for long term contracts with ISPs, janitorial services, or utilities providers. Rather than paying rent around the clock for a large classroom, common areas and a cafeteria, they pay for amenities when they actually use them and save money when they don't.
Small businesses and individuals benefit from the model by pooling their resources and getting access to amenities like gigabit internet, board rooms, gourmet coffee and tea, and beautiful facilities that would normally only be accessible to large organizations and venture backed startups. Companies, individuals, and nonprofits benefit by being around one another. Whether sharing ideas, commiserating, or just laughing over coffee, members connect with each other at TPC in a way that's impossible while working from home. In an increasingly isolated and automated world, places like TPC offer one of the last settings for serendipitous human connection. This is not a luxury, it's a necessity. This was true before COVID and will be even more true after.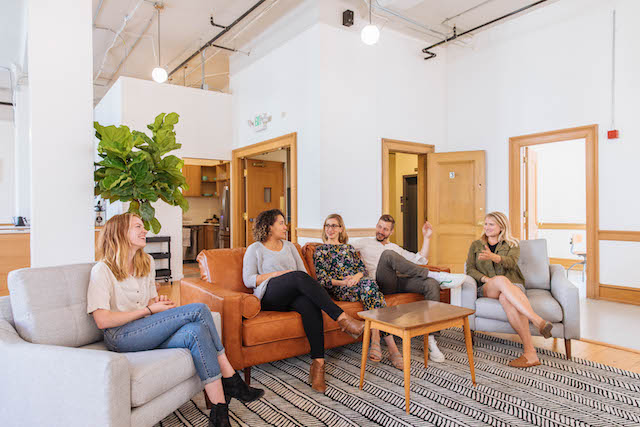 How do we find you online?
 https://www.thepioneercollective.com/tacoma
Why did you start your business?
What is lesser known about your business that you wish more people knew?
What else do you want people to know?
 Initially, we opened with a simple mission: to create a physical space and work experience that we'd wished we'd always had access to. We aimed to create a space that was beautiful, well-designed and comfortable with a strong membership base of other driven people. Over time, our goals have evolved and we've expanded our mission. We strive to remain financially sustainable so we can deliver on the promises we make to our customers. We hire and retain great people and pay good salaries and benefits. We strive to be stewards of the environment and the neighborhoods and cities in which we operate. We buy supplies and materials from local vendors whenever possible and act as a platform to support and promote small businesses. We differentiate TPC from our competitors by creating a professional environment while maintaining a truly unique atmosphere and design aesthetic. We provide enterprise grade IT support and hospitality style service and also mix in furniture and design elements that you'd normally see in restaurants or boutique hotels, not offices. We offer resources to our members that they can't get in the home office, like professional printing, video conference rooms, a podcast studio and a great room with 20′ ceilings!
I think there is still a misconception that "co-working" is only for a specific group of people (e.g. 20-30 somethings in tech). This couldn't be further from the truth. Our membership base ranges across all ages, genders, races, and industries. We also have an offering for businesses and organizations of all sizes. Whether you're just starting out and only need a couple days at a desk per month, or run a multinational corporation that needs a large flexible office, or a room to hold a weeklong training for 40 people, we have spaces specifically tailored to your needs.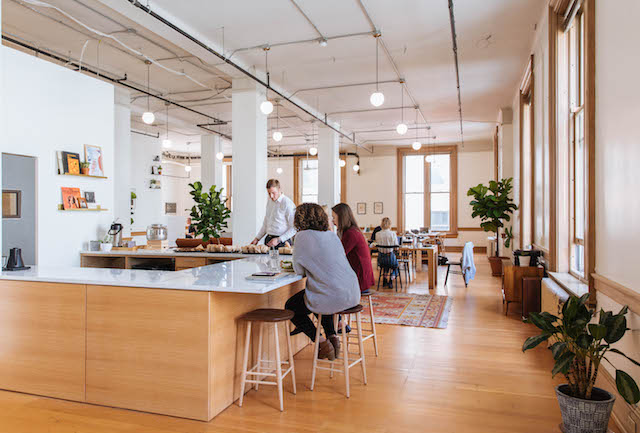 Also, I should note that you don't have to be a member to rent meeting rooms, classrooms or event space.  Members get preferential pricing, but these services are available to the public. We want to be around for a long time. To achieve that goal, we constantly reevaluate how we're doing things, invest in what works, and maintain humility so we can reconsider and reinvent processes if we start to stall.