What does $500K buy in The Greater Tacoma area? Great question! Whether you're looking for a classic craftsman home, newer construction, close proximity to popular amenities or homes with some land, this list has you covered. There is something special and unique about every neighborhood in Tacoma and the surrounding cities and a home worth ~$500K is different in each area. 
We've ranked each home on a scale of 1-5 stars for better context. Here is the key: 1 star is a major fixer, as in the whole home needs to be brought down to the frame and rebuilt completely; 2 stars is a fixer, as in the home needs cosmetic, structural and major systems of the home to be upgraded. 3 stars is a home that is dated and needs more than just paint to make it a home; 4 stars is a home that may need a few cosmetic fixes, but is definitely move-in ready; 5 stars is move-in ready or new construction.
NORTH TACOMA – $510,000
Only a few blocks from dining, shopping, parks and Tacoma's waterfront. Centrally located to all of North Tacoma's attractions and favorite local amenities. This home is definitely a fixer. Some "big items" have been recently updated such as the roof, electrical, furnace, A/C, and windows. The second floor is framed for a third bedroom or primary suite. The first floor needs work as well. MLS# 1799716.
2/5 ⭐⭐
3 Bedrooms
1 Bathroom
2,010 sq ft
6,000 sq ft lot
Built in 1925
Listed by Keller Williams Tacoma. Sold on 7/22/2021.
CENTRAL TACOMA – $500,000
Central Tacoma has become a popular area for homebuyers as it's close to North Tacoma, Downtown and freeway access. But you get more home for your dollar in Central Tacoma compared to North Tacoma. You're minutes away from shopping, dining, entertainment and more. MLS# 1781294.
4/5 ⭐️⭐️⭐️⭐️
3 Bedrooms
1.75 Bathrooms
2,026 sq ft
10,257 sq ft lot
Built in 1932
SOUTH TACOMA – $503,000
As one of the most affordable areas in Greater Tacoma, South Tacoma offers more home for nearly the same price when compared to North and Central Tacoma neighborhoods. This classic craftsman has an updated kitchen, open concept floor plan and a one-car detached garage. In South Tacoma, you're conveniently located near I-5 access, JBLM, and the Tacoma Mall. MLS# 1785368.
4/5 ⭐️⭐️⭐️⭐️
4 Bedrooms
1.75 Bathrooms
2,118 sq ft
5,310 sq ft lot
Built in 1925
Listed by RE/MAX Northwest Realtors. Sold on 7/9/2021.
EAST TACOMA – $480,000
If you're looking for more land or affordable new construction, East Tacoma is the place for you. This home sits on nearly 1/2 acre of fully-fenced land and offers newer interior updates as well. The barn has space upstairs plus a one-car garage. You'll enjoy the nearby summertime street fair located on McKinley Ave and visiting Swan Creek Park. MLS# 1772689.
3/5 ⭐️⭐️⭐️
3 Bedrooms
2 Bathrooms
1,658 sq ft
17,424 sq ft lot
Built in 1900
Listed by Windermere Professional Partners – Puyallup. Sold on 7/14/2021.
NORTHEAST TACOMA – $512,000
More space and homes built in 1990s-2000s are what you'll commonly find in the Northeast Tacoma neighborhood. This area has the most planned communities and developments in all of Tacoma. This home offers a three-car garage, updated interior, plus a fully-fenced side yard. A newer home is what $500K can get you in NE Tacoma. MLS# 1797734/
4/5 ⭐️⭐️⭐️⭐️
4 Bedrooms
3 Bathrooms
1,947 sq ft
8,165 sq ft lot
Built in 2006
POINT DEFIANCE/RUSTON – $508,500
This neighborhood offers plenty of entertainment and activities. Many folks living in this area don't mind giving up a garage or square footage in order to be so close to hiking trails, beaches and the Ruston Way Waterfront. Minutes from this front door is Owens Beach, Point Defiance Zoo & Aquarium, plus hiking trails and local eateries. MLS# 1795882.
4/5 ⭐️⭐️⭐️⭐️
3 Bedrooms
1.5 Bathrooms
1,358 sq ft
9,000 sq ft lot
Built in 1968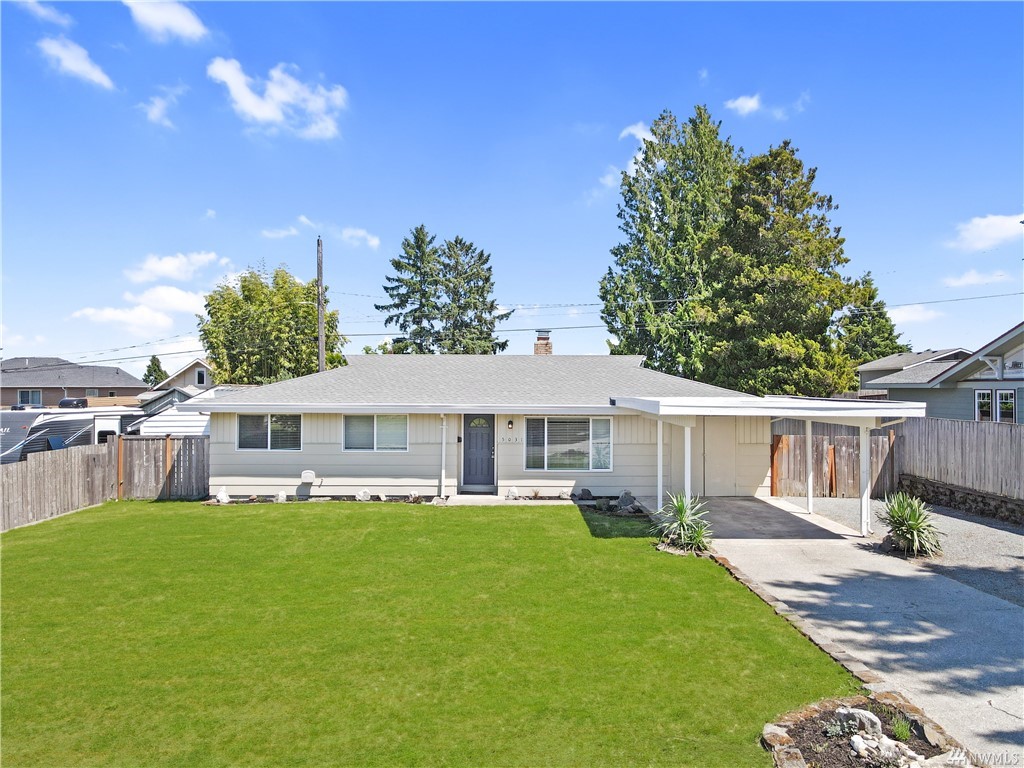 PROCTOR – $520,000
A charming one story home in with character and a few modern upgrades is what you'll get for just over $500K in the Proctor neighborhood of Tacoma. You're within walking (or biking) distance to restaurants, local shopping, the University of Puget Sound campus plus the popular Farmer's Market. You're also surrounded by beautiful, historic homes. MLS# 1792176.
3/5 ⭐️⭐️⭐️
3 Bedrooms
1 Bathroom
1,256 sq ft
6,000 sq ft lot
Built in 1926
Listed by Redfin Corp. Sold on 7/23/2021.
UNIVERSITY PLACE – $485,000
University Place is one of the most expensive areas overall in the Greater Tacoma region. Finding an updated and move-in ready home for $500K would be nearly impossible. If you're looking to renovate an older home in a quiet neighborhood, then University Place is for you! This area appeals to many families because of the school district and close proximity to newer shopping centers. This home featured below definitely needs a little elbow grease. MLS# 1798344.
2/5 ⭐️⭐️
3 Bedrooms
1.75 Bathrooms
1,624 sq ft
18,000 sq ft lot
Built in 1959
FIRCREST – $499,500
With a population of ~6,800 people, the town of Fircrest is small but the sense of community is huge. If you're a mid-century modern home lover, you'll love the architecture that this neighborhood offers. The new community pool is a highlight for many Fircrest residents and visitors! The home featured definitely needs some TLC, but the charm and character make the home unique.
3/5 ⭐️⭐️⭐️
4 Bedrooms
1.75 Bathrooms
1,688 sq ft
5,500 sq ft lot
Built in 1920
Listed by Better Properties Real Estate. Sold on 8/16/2021.
LAKEWOOD – $520,000
As one of the more affordable areas overall, $500K can buy a lot in Lakewood, like this home featured below. A beautifully manicured lawn plus ample parking space and the largest home on this list. Lakewood sits near the JBLM, I-5 access and offers plenty of dining and shopping options. This home is in the desirable Oakbrook community. MLS# 1782394.
4/5 ⭐️⭐️⭐️⭐️
4 Bedrooms
2.25 Bathrooms
2,288 sq ft
11,863 sq ft lot
Built in 1966
Listed by Better Properties Real Estate. Sold on 8/16/2021.
STEILACOOM – $500,000
Steilacoom is one of the oldest towns in the Puget Sound region and is full of history. Many folks love this area for the picturesque views of the water and quaint neighborhood. Steilacoom's downtown is charming and walkable. This home features a partial view of the water and has a unique layout with a one-of-kind sun room and separate guest house. MLS# 1788724.
3/5 ⭐️⭐️⭐️
2 Bedrooms
2 Bathrooms
1,400 sq ft
8,450 sq ft lot
Built in 1982
Listed by Better Properties Real Estate. Sold on 8/13/2021.
Interested in buying or selling your home? CALL/TEXT Realtor Jenny Wetzel (253) 981-9788 for more information.