The May 2021 Market Update is here! Every month we compile the data from the following counties: Pierce, Kitsap, Thurston & King. The data is pulled directly from the Northwest Multiple Listing Service. Don't see your local area? Let us know, we are happy to run a market update report tailored just for you!
COUNTY UPDATE:
What felt like little bit of a "slow down" in April, definitely did not stick around in the month of May. Across Pierce, King, Kitsap and Thurston counties we saw an uptick in the median home price and the year to date percentage increase. However, there was still more (in comparison to this time last year) inventory available to home shoppers. Even with a slight increase in interest rates, our data proves that it is still an incredible time to sell you home and that many buyers are out shopping. Below you'll find data for the May 2021 Market Update by neighborhood.
SPECIFIC AREAS: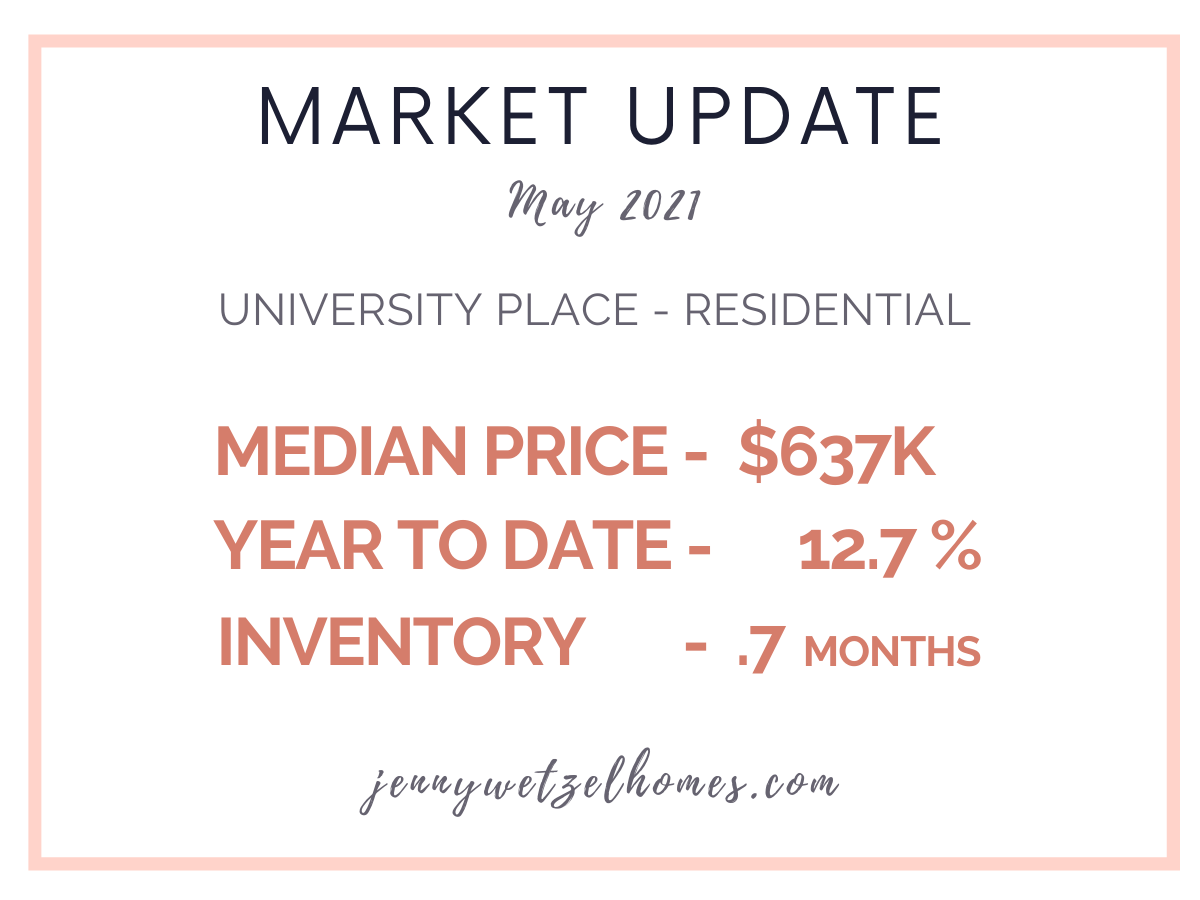 University Place steadily remains as one of the more expensive areas to live in the Greater Tacoma area. When you compare the home prices last year to 2021, UP was amongst the lowest year over year increase.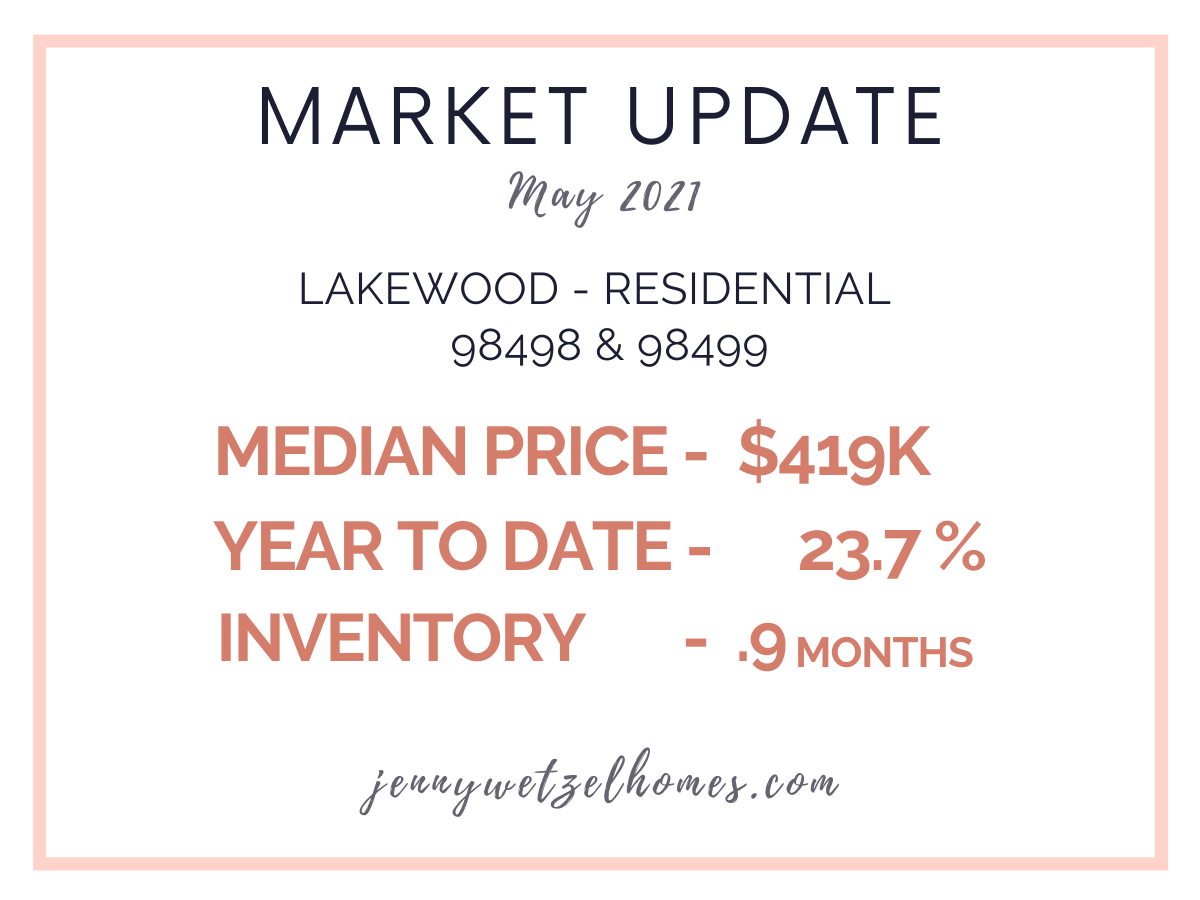 Lakewood comes in as the most affordable area to purchase a home in May 2021 when compared to the other cities we research. Lakewood also had almost a month of inventory for home buyers to choose from.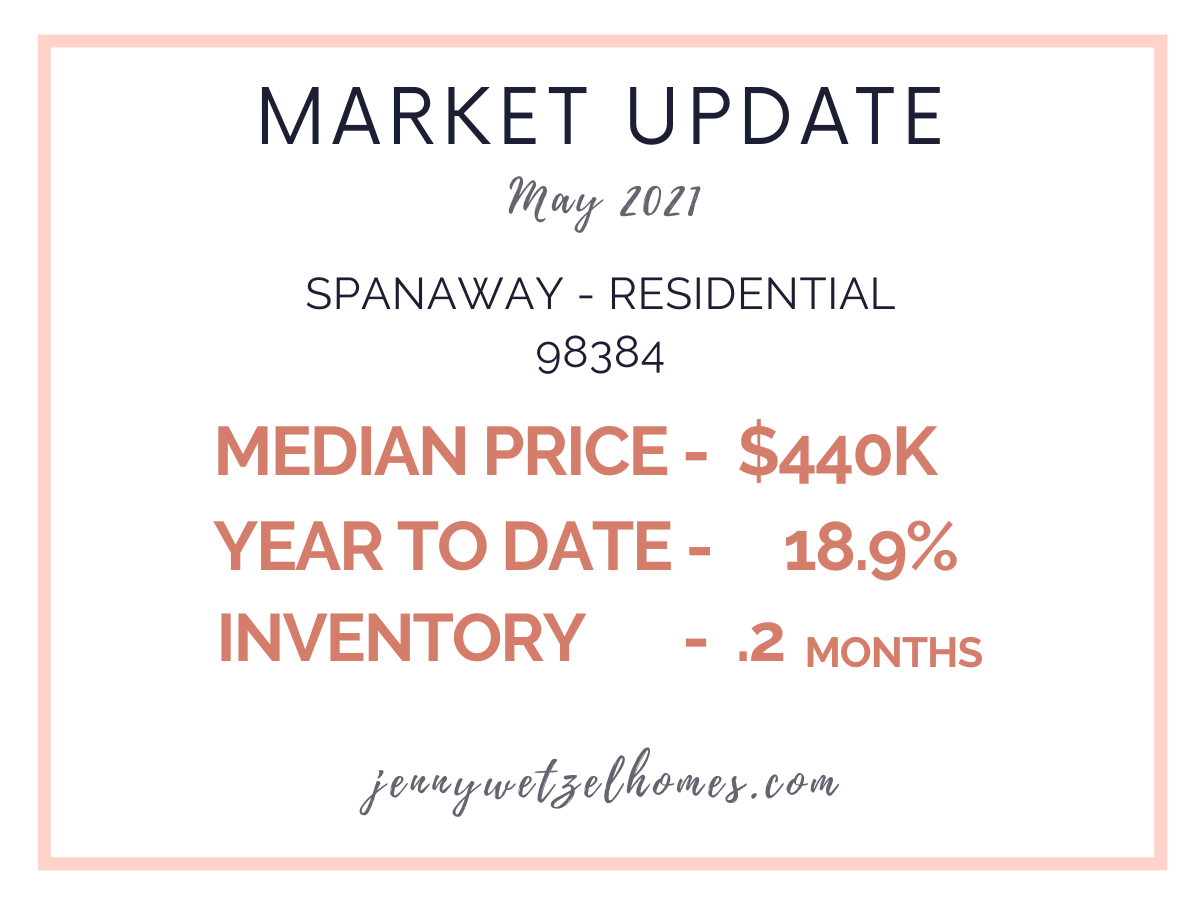 Although the median home price in Spanaway was only $20K more than Lakewood, Spanaway had very few homes for home buyers to choose from. Only .2 months of inventory (about less than a week) of home to purchase.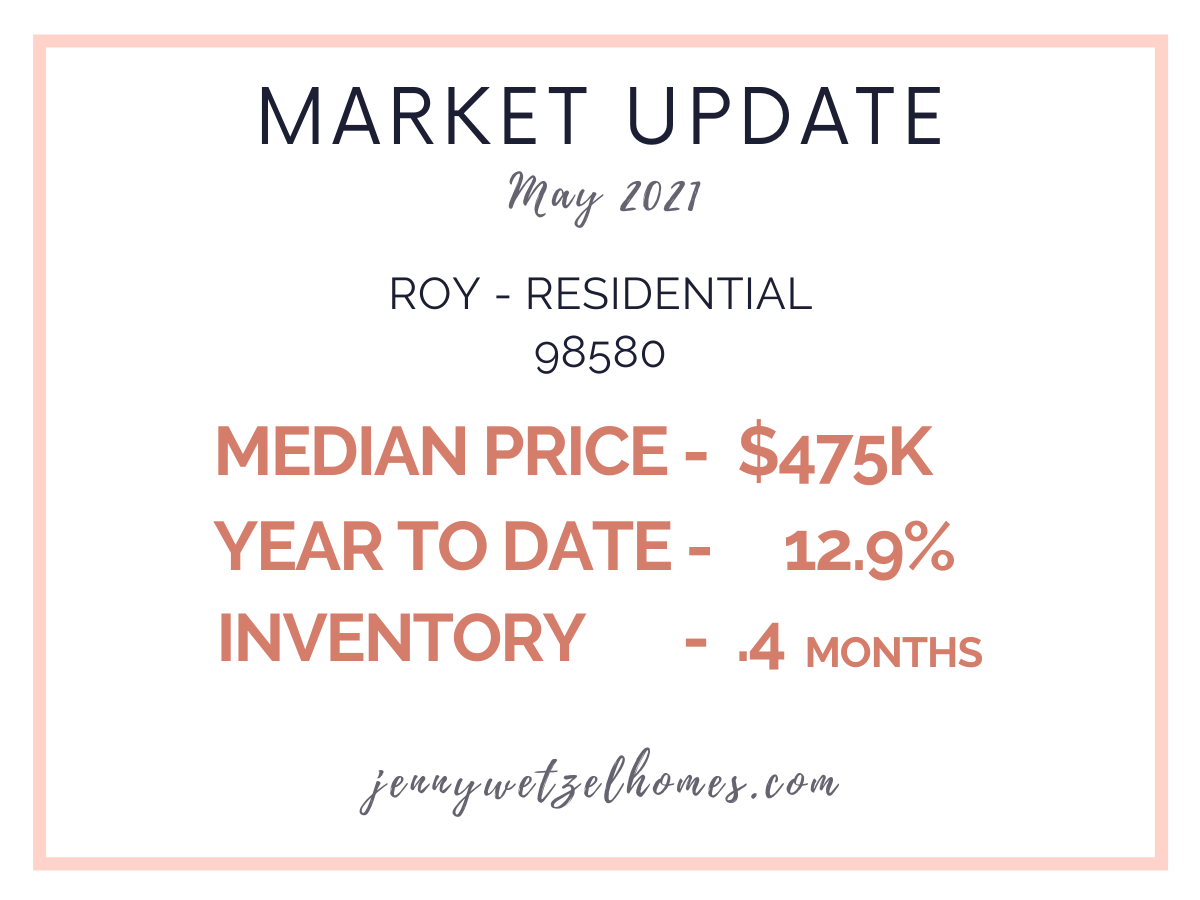 The median home price sold in Roy is decreased roughly $90K from April. Roy has a wide variety of lot sizes and styles of homes, which plays a huge role in the swing of data we see in this area.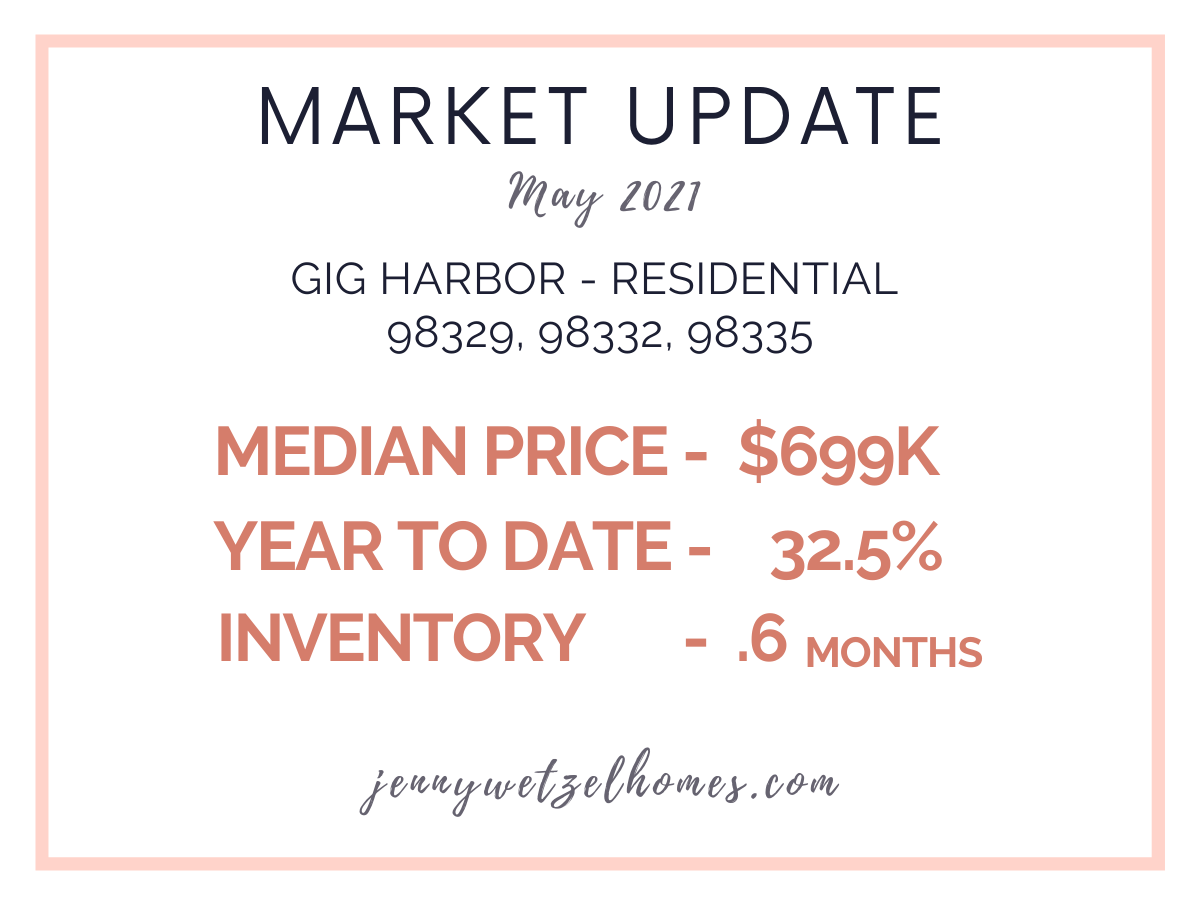 Gig Harbor was the most expensive area this month. The median home price was just under $700K. Gig Harbor also saw the largest year to date increase at 32.5%. In the zip code 98329, the median sales price year to date increase was up 42.9%.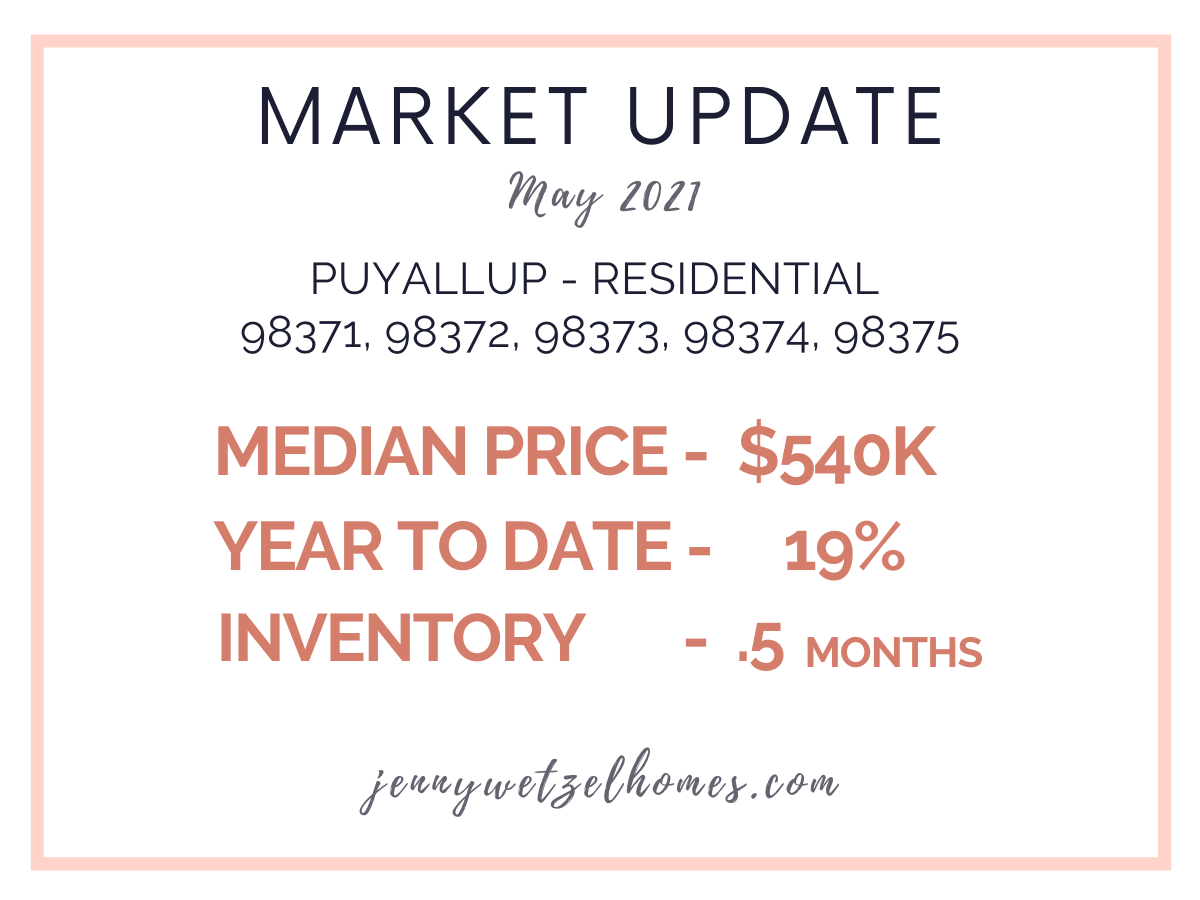 Puyallup continues to increase in the median sales price and increase year over year. The median sales price was over $500K in all areas of Puyallup with the lowest area (98375) being $505K and the highest area (98371) being $611K.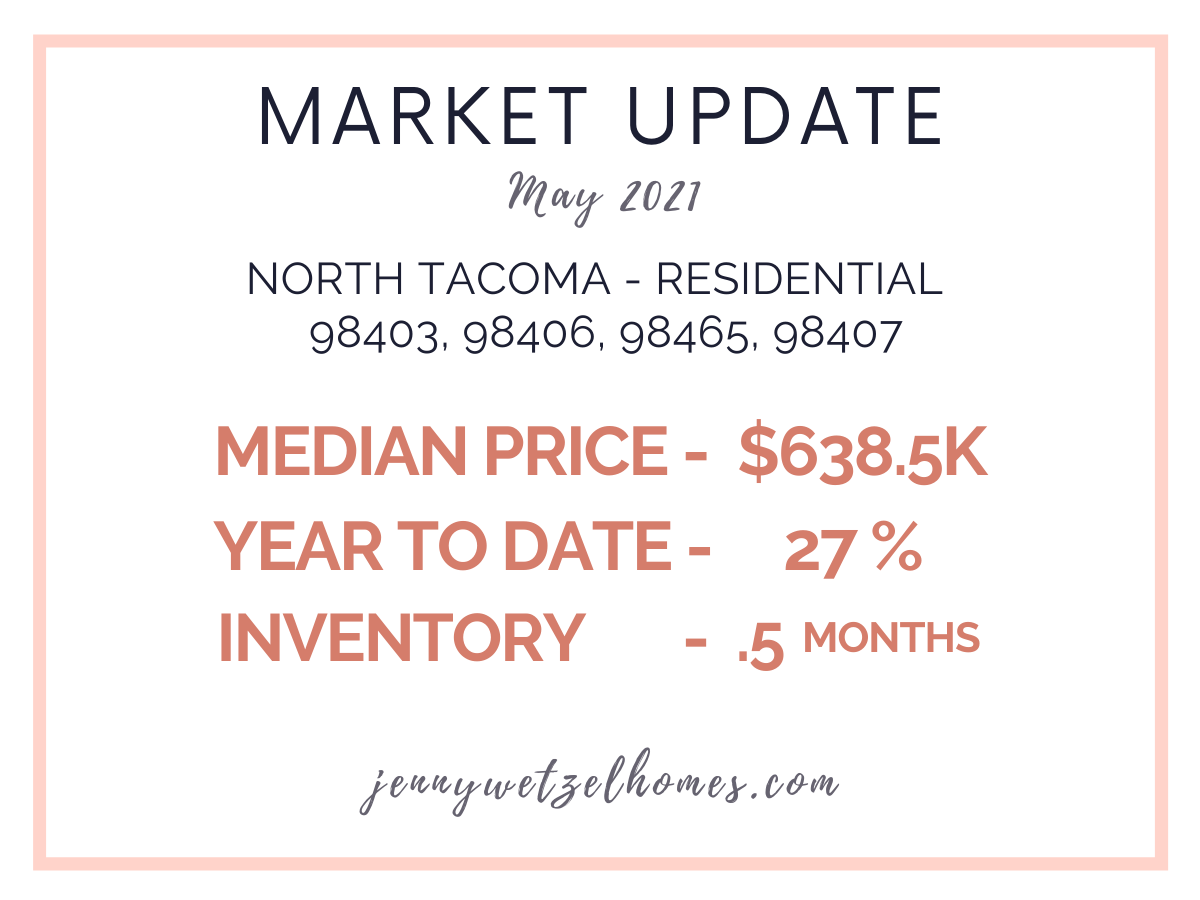 On average, homes listed in the zip code 98407 went under contract in 6 days. To put that in perspective, in 2020, homes in the same area went under contract in 18 days. A huge decrease in the amount of days year over year.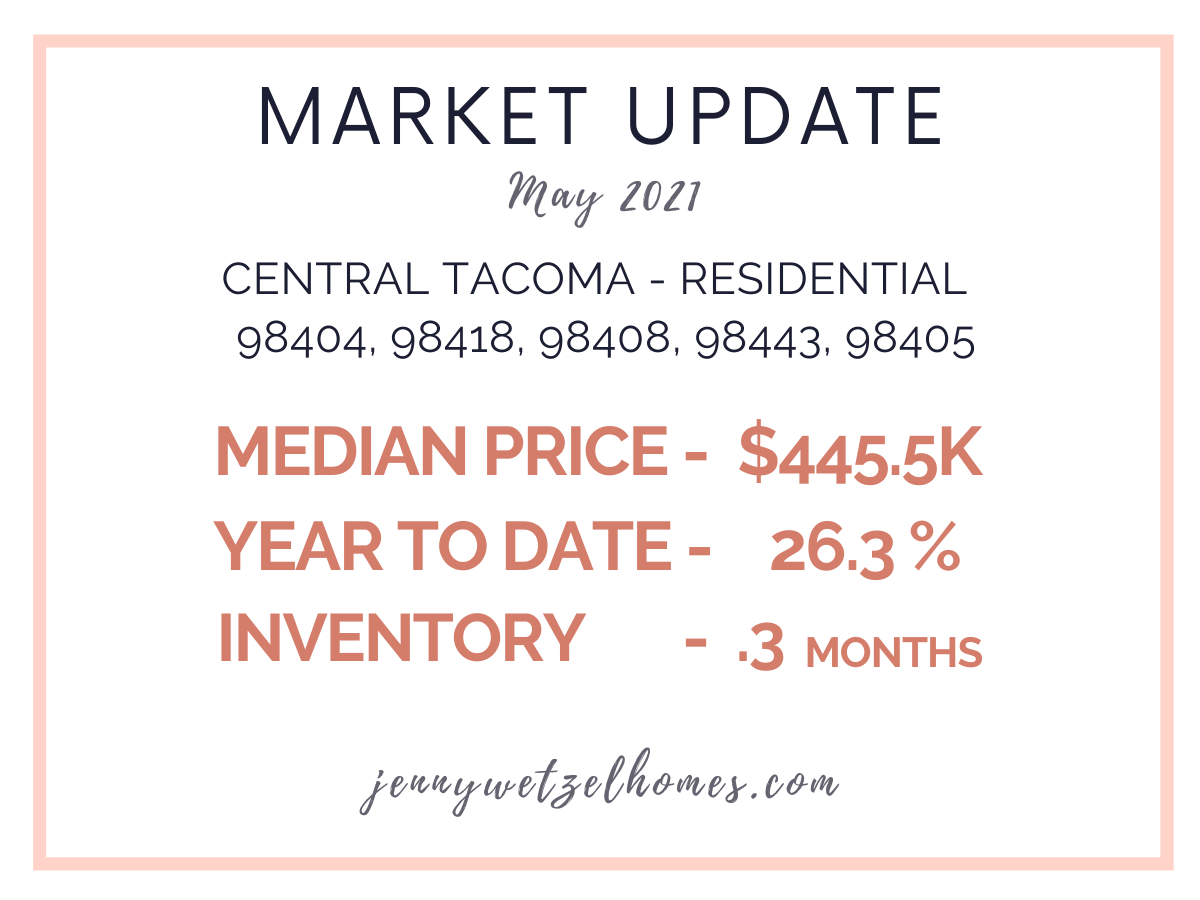 Central Tacoma continues to increase in median sales price. As home buyers are being pushed out of the North Tacoma area, many are landing in the Central Tacoma region. Which better helps explain the large year to date increase in home prices and extremely low inventory.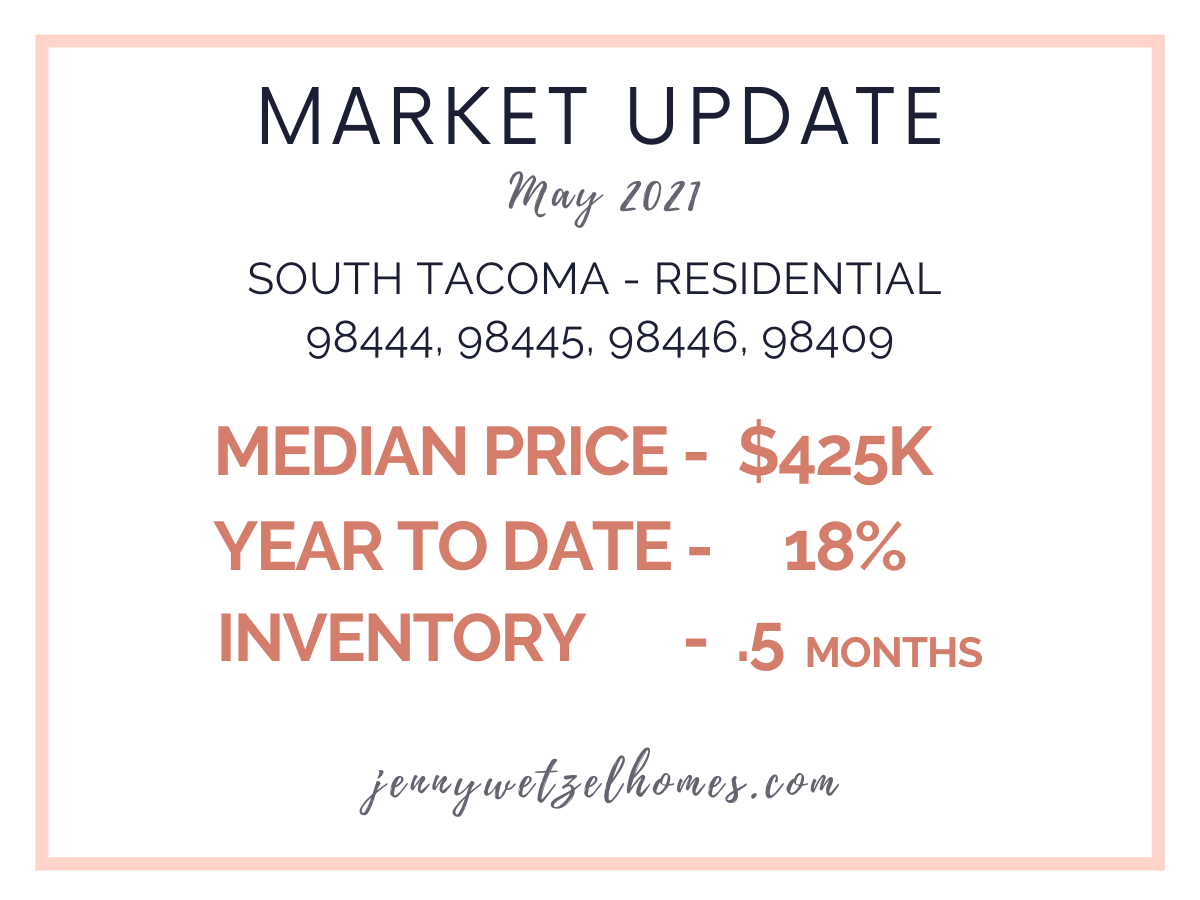 On average it took only one week for a home to sell in the South Tacoma neighborhood. This region is still one of Tacoma's most affordable areas, but the median sales price in increasing rapidly.
Are you interested in how this month compares to last month? Check out the April 2021 Market Update here!
If you are considering selling your home, feel free to reach out directly – Jenny@JennyWetzelHomes.com OR call/text (253) 381-9788.