Well, the cats out of the bag! Rather than it being our little secret, it is national news; Tacoma, Washington is the hottest Real Estate Market in the nation.  For locals it brings a lot of mixed emotions. Some still want our little city to maintain its reputation of being the arm pit of Seattle ("stay away!"), while others are enthused to see new-comers contribute to our diverse melting pot of people, arts, talent and culture. I can relate to both.
For those of you interested in learning a little bit about our local Real Estate Market and better understanding some of the facts and numbers behind WHY our small town is on headline news, keep reading!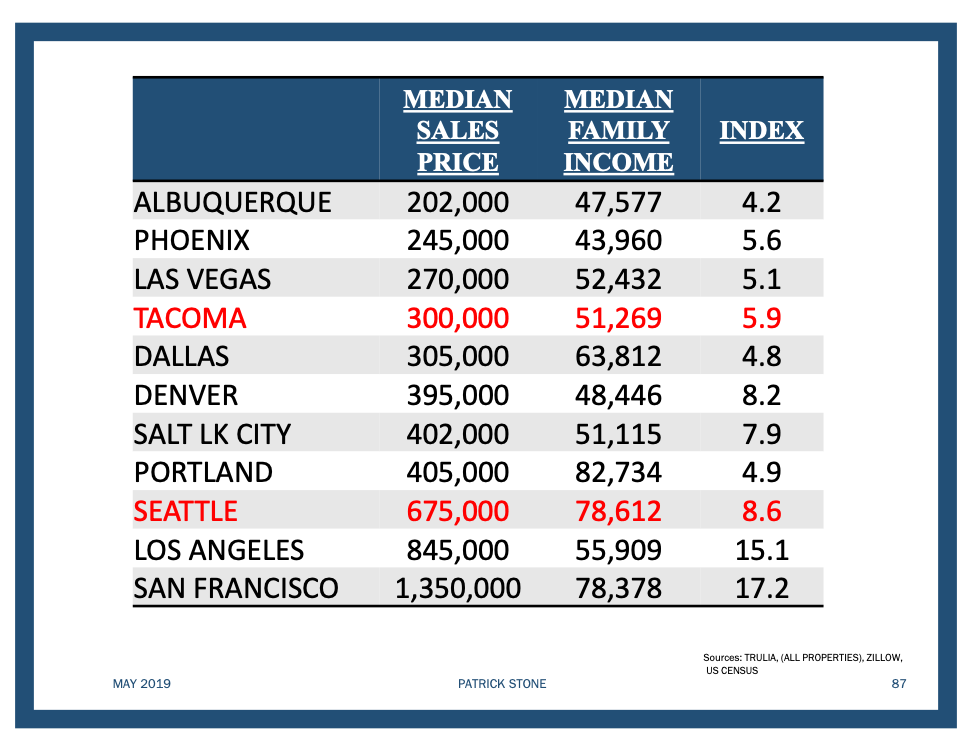 This chart from Patrick Stone (President & CEO of WFG National Title Insurance Company), illustrates Tacoma's affordability compared to 10 other cities in the United States. Although our rent and home prices have increased dramatically over the last 4 years, we remain a very affordable city. Our median home value compared to our median annual salary is substantially more sustainable than that compared to Seattle and Denver; two Real Estate markets that we are frequently compared to. Good luck if you are wanting to live and work In San Francisco!
So now what? For a home buyer living in Tacoma, hoping to invest in their first home, next home or final living space and you find yourself pausing to contemplate if we are in yet another "bubble" similar to that of 2008, I say we are not.
The one thing that slowed our recovery after the market crash in 2008 and '09 was the lack of a larger employer(s). We still don't have that. And yet, I believe that the discovery of our unique city by Seattle-lites, Californians and people across the US and world, means that it really is only a matter of time before it happens. When it does, affordability will decrease, density will increase and many will be wondering why they didn't catch the wave while they could.
On a final note, if you are looking to invest in your first home, this doesn't mean stretching yourself paper thin! It may be worth some creative strategizing to get comfortable with your investment; consider investing in a home where you can collect rent, or invest in a home that supports multifamily living. Perhaps you explore different areas of Tacoma that are more affordable! Most of our city is accessible (by driving) in 15 minutes! Those in highly congested parts of the United States would drool over the opportunity to invest in a single-family home or condo that has such convenience!
Finally – hire a Realtor who can help you strategize, plan and be a part of your big transition. It's not always easy, but It's worth it.
Realtor Jenny Wetzel w/ Windermere Abode (253) 381-9788